PERSPECTIVE: The origins of the Branch Davidians and the siege at Mt. Carmel
Published: Feb. 22, 2023 at 1:14 PM CST
WACO, Texas (KWTX) - On February 28, 1993, a deadly gun battle erupted at the Branch Davidian compound outside of Waco as Bureau of Alcohol, Tobacco and Firearms agents attempted to serve warrants and arrest the group's leader, David Koresh, on weapons charges.
EDITOR'S NOTE: This article was originally published on February 28, 2018, the day marking the 25th anniversary of the raid at the Branch Davidian compound in Elk, Texas.
The shootout claimed the lives of ATF Agents Steve Willis, 32, of the ATF's Houston field division; Robert J. Williams, 26, of the ATF's New Orleans field division, who was assigned to Little Rock; Conway LaBleu, 30, of the ATF's New Orleans field division, and Todd McKeehan, 28, of the ATF's New Orleans field division.
Seventeen other agents were wounded.
Law enforcement officers and some family members of the agents who died in the shootout attended a private memorial gathering Wednesday morning at the Texas Ranger Museum and Hall of Fame in Waco.
Branch Davidians Winston Blake, 28, British, Peter Gent, 24, Australian, Peter Hipsman, 28, Perry Jones, 64, and Jaydean Wendell, 34, also died.
Several hours later ATF agents shot and killed Davidian Michael Schroeder, 29, after he allegedly fired a pistol at agents outside the complex.
Schroeder's autopsy would reveal he'd been shot seven times, five times in the back.
The group's leader, David Koresh, was wounded, but survived.
But who were the people in the compound, where'd they come from and what were they doing?
THE BEGINNINGS
The group's roots can be traced back to 1929 when Bulgarian-born immigrant Victor T. Houteff split from the Adventist church and established the Davidians, a small reform movement within the Seventh-Day Adventist Church, saying that his pure church was a prerequisite for Christ's return to earth.
Both Houteff's Davidians and later the Branch Davidians, led by Ben Roden beginning in 1955, were formed to prepare for the second advent of Christ, which the groups' members believed was close at hand.
Houteff published a series of tracts called collectively The Shepherd's Rod, in which he embraced the Adventist teachings of Christ's imminent return, Saturday worship, dietary regulations and pacifism.
Houteff, after splintering from the Adventist church body, brought his followers to Waco where in 1935 he and 37 followers settled on a site that then was two miles west of Waco, which they named Mount Carmel.
Mount Carmel was a semi-communal organization where everybody worked, and got paid, and some worked outside the farm in Waco, but they were asked to make a double tithe to the group.
The group flourished in spite of the Great Depression and by 1940 had grown to 64 residents who'd built 10 buildings on their 375-acre farm.
Residents built a sewer system, a water system had electrical service and a telephone exchange.
The only original building that remains now houses chemistry and physics lab and a library on the campus of Vanguard College Preparatory School on Mount Carmel Drive.
Houteff died in 1955 and the community fell under the care of his wife, Florence.
THE MOVE TO A NEW MT. CARMEL
Waco had begun to encroach on the community and Florence Houteff decided to keep the community pure, the group needed to find a new home.
In 1957 the City of Waco paid the Davidians $700,000 for the original Mount Carmel property and the group took the money and bought a 941-acre farm, nine miles east of Waco, near Elk, which they named New Mount Carmel.
The most significant of the splinter groups to emerge after Houteff's death was the Branch Davidians, organized by Roden, who claimed he was the sign the Davidians sought.
Roden's own effort centered on the significance of the restored state of Israel, which he claimed was a key sign of preparation for Christ to return to earth.
When he died in 1978, his wife, Lois, assumed leadership, which in 1985 fell to George Roden, Ben and Lois' son.
VERNON HOWELL FORMS A SPLINTER GROUP
At about the same time Vernon Howell, a persuasive Bible teacher, organized a rival faction that resulted in his splinter group being forced out of the Elk compound at gunpoint.
Howell and his followers moved to Palestine, but came back to Elk in 1987, and the return resulted in an exchange of gunfire between Howell and Roden.
Roden exhumed the casket of Anna Hughes from the Davidian cemetery and had challenged Howell to a resurrection contest to prove who was the rightful heir to the leadership.
Instead, Howell went to the police and reported Roden was guilty of abusing a corpse, but county prosecutors refused to file charges without proof.
On Nov. 3, 1987, Howell and seven armed companions stormed the Mount Carmel chapel hoping to photograph Hughes' body in the casket as evidence to incriminate Roden.
But Roden learned of the plan and grabbed an Uzi in response.
McLennan County deputies were sent about 20 minutes into the gunfight, during which Roden was wounded.
Then Sheriff Jack Harwell got Howell on the phone and told him to stop shooting and surrender, which they did.
Howell and his group, now called the "Rodenville Eight" by the media, were tried for attempted murder on April 12, 1988.
Seven of them were acquitted, and the jury hung on Howell's verdict, which ended in mistrial.
While waiting for trial Roden was jailed on a contempt of court charge after judge said he used foul language in some court pleadings and threatened the court with sexually transmitted diseases if it ultimately ruled in favor of Howell.
In mid-1989, Roden was committed to a state mental hospital after he was tried for the axe murder of a Davidian named Wayman Dale Adair, who visited him to discuss Adair's vision of being God's chosen messiah.
He was found guilty under an insanity defense and while serving his commitment, Howell raised money to pay off all the back taxes on the property at 781 Double EE Ranch Road in Elk, and he took control.
VERNON HOWELL BECOMES DAVID KORESH
Howell, who then changed his name to David Koresh, perpetuated the distinctive emphases of Davidian tradition -- the authoritarian leader, communal life organized apart from society, and expectation of the imminent end of the world.
But there were marked differences between Koresh and founder Houteff, who'd preached pacifism where Koresh stockpiled weapons and ammunition.
On Feb. 27, 1993, the Waco Tribune-Herald began publishing a series of stories about Koresh and the Branch Davidians entitled "The Sinful Messiah."
According to the paper's report, "Koresh had declared he was entitled to at least 140 wives, that he was entitled to claim any of the females in the group as his, that he had fathered at least a dozen children, and that some of these mothers became brides as young as 12- or 13-years-old."
ATF had planned the raid for Monday, March 1, 1993, with the code name "Showtime", internal investigation would later reveal, but the agency later would claim it moved the raid to a day earlier in response to the "Sinful Messiah" articles, which the ATF would admit it had tried to prevent from being published.
In addition to allegations of sexual abuse and misconduct, Koresh and his followers were suspected of stockpiling illegal weapons.
In May 1992, Chief Deputy Dan Weyenberg, of the McLennan County Sheriff's Department, notified ATF that his office had been contacted by a local UPS representative about a package that had broken open on delivery to the Branch Davidian residence, revealing firearms, inert grenade casings, and black powder.
On June 9, 1992 a formal investigation was opened and a week later it was classified as sensitive, "thereby calling for a high degree of oversight" from both ATF Houston and headquarters.
Law enforcement began watching after a former member turned anti-cult activist accused Koresh of child abuse by taking as many as 12 child brides, some of them as young as 13-years-old.
That, coupled with allegations that the group had a huge stockpile of weapons, led federal agents early-on in 1993 to secure a search warrant for the compound.
The documentary "Inside Waco" claims that the investigation started when in 1992 the ATF became concerned over reports of automatic gunfire coming from the Carmel compound.
Sheriff Harwell told reporters he'd urged ATF agents to talk with Koresh about their concerns, "Just go out and talk to them, what's wrong with notifying them," Harwell reported suggested to ATF agents.
Instead the ATF began undercover surveillance from a house across the road from the compound several months before the siege
"Their cover was noticeably poor," the report said.
"The 'college students' were in their 30s, had new cars, were not registered at the local schools, and did not keep a schedule which would have fit any legitimate employment or classes."
KWTX ARCHIVE FOOTAGE: The raid at Mt. Carmel in Elk, Texas
THE RAID
Incident commanders with the Bureau of Alcohol, Tobacco, Firearms and Explosives packed a platoon of 76 heavily armed agents into a cattle trailer on the morning of February 28, 1993 and drove to the compound.
Rather than just serve the warrant, agents decided to make a forced entry.
But the Branch Davidians were ready.
Subsequent reviews concluded that a KWTX photographer who was parked on roadside about a mile from the compound was approached by a contract mail carrier in a private vehicle with postal service markings who turned out to be Koresh's brother-in-law, David Jones.
But nearly a dozen reporters and photographers, most of them from the Tribune-Herald, were also in the area, and the Treasury Department review of the raid concluded that the photographer shouldn't be made a scapegoat because Koresh "might just as easily have been placed on guard by that other activity."
In fact, on Feb. 1, 1993, ATF officials had asked the Tribune-Herald to delay publication of its series on the Davidians and offered to give the newspaper's reporters "front row seats" during the raid in exchange for a delay.
The paper ultimately declined to hold the story.
On the Saturday before the raid, an ATF public information officer called three Dallas TV stations to ask for weekend contact phone numbers and "indicated to all the stations that ATF might have something going on during the weekend," although she provided no specific details, the Treasury Department review says.
"She did not contact Waco television stations or newspapers, out of a concern that the raid's security might be threatened," the review said.
Undercover agent Robert Rodriguez, who spent about an hour in the compound before the raid, made it clear to ATF commanders that the Davidians knew they were coming, but the officials decided to go ahead with the raid, anyway.
Rodriguez later filed a lawsuit against the ATF and a slew of its officials, alleging that they defamed him and conspired to make him a scapegoat.
He reached an out-of-court settlement that reportedly netted him nearly $2.3 million.
Rodriguez later was diagnosed with post-traumatic stress disorder and he retired with disability benefits in December 1999.
Just after 9:45 a.m., shortly after more than 70 agents pulled onto the Davidian property, riding in two cattle trailers towed by pickup trucks in what was later described as a "Trojan Horse" strategy, gunfire erupted.
What sparked the gun battle may never be known, but testimony from the criminal trials of surviving Davidians indicated the first shots were fired from inside the compound.
A minute later, a Davidian and attorney named Wayne Martin called 911 and told authorities there were women and children inside the compound and begged them to call off the raid.
The call was cut off, but the 911 center returned it and Martin and sheriff's Lt. Larry Lynch, who was later elected sheriff, began a negotiation, which ATF officials later took over, that eventually led to a cease fire late in the morning.
The raid team withdrew and local authorities moved to secure the perimeter.
Waco police Sgt. W. Patrick Swanton was one of the SWAT officers who responded that day.
"Our job was to provide security, to be sure nobody went in or left," Swanton said.
The Treasury Department review later concluded the raid's planners had no contingency plan for a situation in which conditions for the raid weren't right and failed to prepare for the possibility of an ambush or a standoff.
THE STANDOFF
The FBI took charge of the standoff and for 51 days attempted to convince Koresh and the Davidians to surrender.
As negotiations dragged on without result, the agency decided to try to force the Davidians into submission, using loud music, bright lights, bulldozers and flash-bang grenades, but through all that the compound remained un-breached.
Day after day television showed pictures of helicopters circling the compound and soon the Army brought tanks and armored personnel carriers to the scene.
On April 19, 1993, U.S. Army armored vehicles were used to breach the compound and inject a powdered form of tear gas inside the building.
Just after noon, a fire broke out and within minutes the entire structure was engulfed in flames, driven by gusty April winds.
More than 75 people, including Koresh, died.
THE AFTERMATH
Over the next few years, investigations into the incident triggered heated debate over government use of deadly force.
Those extensive internal investigations conducted by the ATF and the FBI were followed by public hearings by both the U.S. House of Representatives and the Senate as Washington sought to place blame for the deaths.
Most early reports blamed the Davidians for starting the fatal fire, but in August 1999 the U.S. government admitted that federal agents had fired incendiary tear gas rounds into the Branch Davidian compound prior to the massive fire.
The U.S. attorney general then launched for another investigation with a new set of hearings on the case that would be headed by special counsel John Danforth, a former U.S. senator.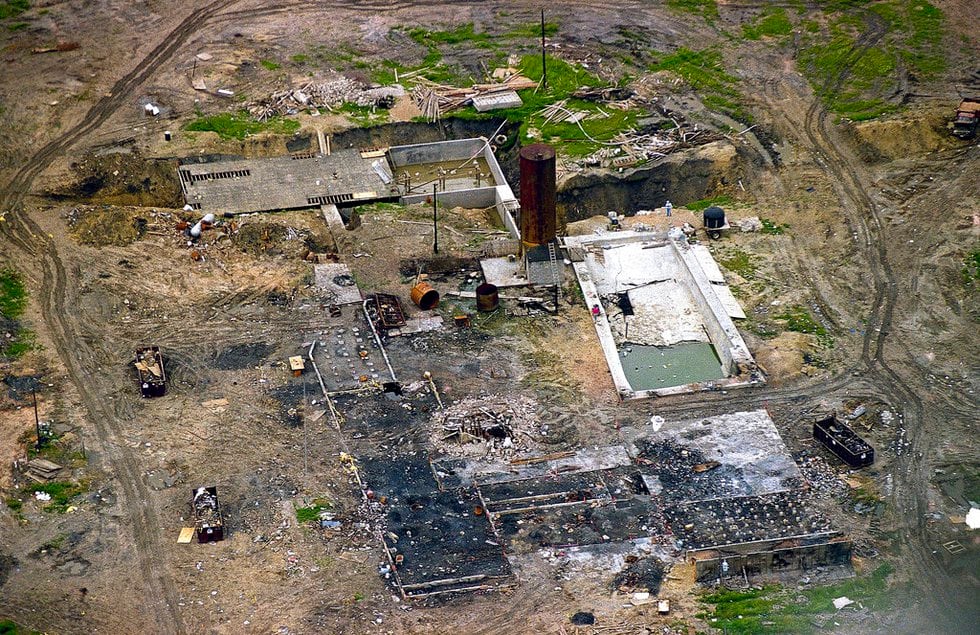 In July 2000 Danforth issued a preliminary report that absolved the U.S. government of any wrongdoing in its encounter with the Branch Davidians.
Court trials charging the murder of the AF agents awaited a few survivors of the raid but ultimately each was found not guilty of the murders, but still received lengthy for their actions during and after the raid.
More than 100 agents or families of those ATF agents killed in the raid sued KWTX and the Waco Tribune-Herald and had any of those lawsuits actually gone to court, testimony could have spoken volumes about media access and the role of the government in the events that led to so many deaths.
But all of those lawsuits all settled out of court so that testimony was never made public.
The remaining survivors, some 25 in number, reorganized, published the writing of Koresh, and began the process of rebuilding the movement.
By the end of the 1990s it had more than doubled in size, though no clear leadership had emerged.
The most notable remnant of the Davidians is set in the floor of the main building at the old Mount Carmel campus: a clock, set near the eleventh hour, indicating that the end of time is near.
DAVIDIANS WHO DIED ON APRIL 19, 1993
Katherine Andrade, 24, Chanel Andrade, 1, Jennifer Andrade, 19, George Bennett, 35, British, Susan Benta, 31, British, Mary Jean Borst, 49, Pablo Cohen, 38, Israeli, Abedowalo Davies, 30, British, Shari Doyle, 18, Beverly Elliot, 30, British, Yvette Fagan, 32, British.
Also: Doris Fagan, 51, British, Lisa Marie Farris, 24, Raymond Friesen, 76, Canadian, Sandra Hardial, 27, British, Zilla Henry, 55, British, Vanessa Henry, 19, British, Phillip Henry, 22, British, Paulina Henry, 24, British, Stephen Henry, 26, British, Diana Henry, 28, British, Novellette Hipsman, 36, Canadian and Floyd Houtman, 61.
Also: Sherri Jewell, 43, David M. Jones, 38, David Koresh, 33, Rachel Koresh, 24, Cyrus Koresh, 8, Star Koresh, 6, Bobbie Lane Koresh, 2, Jeffery Little, 32, Nicole Gent Little, 24, and unborn child, Australian, Dayland Gent, 3, Page Gent, 1, Livingston Malcolm, 26, British, Diane Martin, 41, British, Wayne Martin, Sr., 42, Lisa Martin, 13, Sheila Martin, Jr., 15, Anita Martin, 18, and Wayne Martin, Jr., 20.
Also: Julliete Martinez, 30, Crystal Martinez, 3, Isaiah Martinez, 4, Joseph Martinez, 8, Abigail Martinez, 11, Audrey Martinez, 13, John-Mark McBean, 27, British, Bernadette Monbelly, 31, British, Rosemary Morrison, 29, British, Melissa Morrison, 6, British, Sonia Murray, 29, Theresa Nobrega, 48, British, James Riddle, 32, Rebecca Saipaia, 24, Phillipino, Steve Schneider, 43, Judy Schneider, 41, Mayanah Schneider, 2, Clifford Sellors, 33, British,
Scott Kojiro Sonobe, 35, Floracita Sonobe, 34, Phillipino, Gregory Summers, 28, Aisha Gyrfas Summers, 17, and unborn child, and Startle Summers, 1.
Also: Lorraine Sylvia, 40, Rachel Sylvia, 12, Hollywood Sylvia, 1, Michelle Jones Thibodeau, 18, Serenity Jones, 4, Chica Jones, 2, Little One Jones, 2, Neal Vaega, 38, New Zealander, Margarida Vaega, 47, New Zealander and Mark H. Wendell, 40.
LINKS TO REPORTS:
Copyright 2023 KWTX. All rights reserved.